October, November, December 2018

1133 W. Orvilla
Hatfield, PA 19440
(215) 453-7452
Rev. Robert T. Tufton - Rector
Visit our website: http://www.HolySpiritAnglicanHatfield.com
Editor: Greg Gibson
444 State St. #A
East Greenville, PA 18041
(484) 678-7093
gregorygibson@fuller.edu

From The Pastor's Desk




The following is a portion of a teaching published in a newsletter from All Saints Anglican Church in Mills River, North Carolina. I found it important enough that it was worth repeating. Shared with permission.

Have you ever read the "Love Chapter" in the Bible (1 Cor. 13)? Most everyone thinks it is totally grand! We many times hear excerpts of it at a wedding. It is, also, used in our Book of Common Prayer to allow us to focus on and consider the unconditional love of God. All that is wonderful but that was not the original intent of St. Paul's writing. It was meant to demonstrate how church members relate to one another. Think about how utterly appropriate it would be if it was read in a church when an annual meeting or vestry meeting might become acrimonious. In its full biblical context that would be exactly when it should be read.

If all Christians in their churches would just abide by the principals in the "Love Chapter," every single church on the planet would be completely, 100% healthy. Look at these relational principals St. Paul gives us: "Love is patient and kind; love is not jealous or boastful; it is not arrogant or rude. Love does not insist on its own way; it is not irritable or resentful (1 Cor. 4-5)." These two verses alone, if all church members followed them, would set off a revolution for Christ!

We should not love our fellow church members just because they are lovable. We are to love the unlovable ones too. You should not pray for or encourage your clergy just when they are doing the things you like. You should pray for and encourage them especially when they are doing things you don't like. You should not just serve at the church if everyone else is jumping in. You should serve the church even if you are completely alone in your service. Church membership is founded on love…Authentic, biblical, unconditional love.




Parish News and Announcements



• Adult Education Classes begin on October 7th and will start promptly at 8:45 AM Study Topic: The Gospel of Mark
• On Sunday November 4th, please remember to set your clocks back; otherwise, you will be an hour early for church and will have plenty of time to say Morning Prayer.
• Thanksgiving Eve Service on Wednesday November 21st at 7:00 PM
• Christmas Eve Candle Light Service, Holy Communion and Music at 10:00 PM
• Christmas Day Service, Holy Communion with music done acapella at 10:00 AM
• A special thank you to Caroline deCamp who spent many hours and days making the flower beds around the church look beautiful. If you have not noticed them, please stop and admire them, and when you see Caroline thank her for her service.
• On Saturday July 28th, Jay Francis dug the hole for our church sign. The church sign can be seen from both sides of the road and will, hopefully, attract people by its intriguing messages.
• On Saturday July 28th, we had a work party day in order to clean out the church. We got rid of a lot of stuff and within minutes of putting things by the road with FREE signs, they were gone. The church was cleaned and it was prepared for its consecration. It was a successful day! A special thank you to Ester, Laura, Tammy, Brian, Eileen, Fr. Bob, Caroline, Tom, Jay, and Greg for participating in this day.







On Sunday July 29th, we had a pulpit exchange. Fr. James Johnson rector of All Saint's Anglican Church in Lancaster, PA came and celebrated Mass at Holy Spirit. While Fr. Bob Tufton rector of Holy Spirit went to All Saint's and celebrated Mass for them.

Both churches are in the Anglican Providence in America, and Fr. James and Fr. Bob are long time friends. It was encouraging and uplifting to reconnect with old friends. We look forward to more intercommunion events in the future.
---
On Sunday September 16th, we were joined by the Most Reverend Walter H. Grundorf to consecrate the church of the Holy Spirit. Since the mortgage was paid off, the building was dedicated to God's service.
Burning The Mortgage
This is a proud and historic moment for the church. Fr. James Johnson was present with Fr. Bob Tufton and the rest of the Holy Spirit Anglican Church to celebrate this joyous occasion.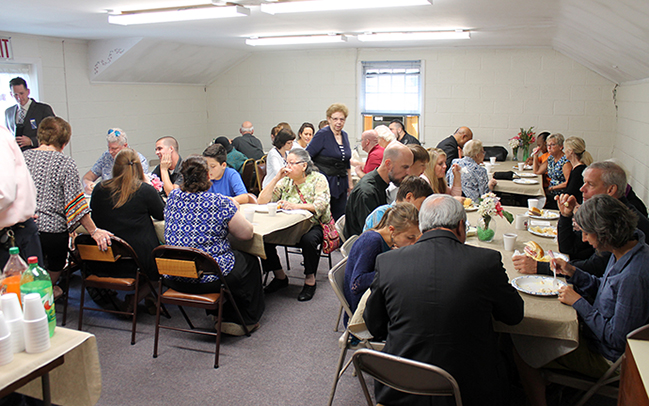 A wonderful luncheon was enjoyed by all after the Mass
---
Special Needs
Leighanne, Erik, Scott, Thelma, Vincent, Christine, Martha, Marge, Diane, David, Katie, Melanie, Bill
Sick
Lynn, Cindy
Shut-In
Marlene, Charles, Ruth
Studying for the Ministry
Greg
Attending College
Courtney, Sarah, Morgan, Dylan, Alicia, Hailey
Serving in the Armed Forces& Law Enforcement
Jim, Charles, William, Tommy, Oscar, All those serving our country here and abroad. All police officers and first responders.
Note regarding the prayer list.
Please remember the parish prayer list is purged every month. If someone you know requires continued prayers, please ask that they remain on the list.
Birthdays


October 5
October 8
October 8
October 16
October 17
October 18
October 30
November 9
December 1
December 8
December 11
December 13
December 23


Angelica Maria de Camp Teresa Mason
Andrew Groves
Greg Gibson
Scott Kister
Cindy Kovacs
Karen Aichele
Maryann Edsall
Tricia Rush
David de Camp
Erik Kister
Eileen Tufton
Faith McKoy


Anniversaries


October 23
November 18
November 27
December 21


Tom & Phyllis Blair
Robert & Maryann Edsall
Steven & Teresa Mason
Thomas & Lynn McCabe

---
Ask the Seminarian
Jesus had many friends that were women. He only called one daughter. Can you tell us who that was and on what occasion?

Jesus did have many friends that were women. The story in which Jesus calls the woman a daughter occurs sandwiched in the story of Jairus' daughter. This story appears in all the synoptic gospels (Matthew 9:18-26, Mark 5:22-34, and Luke 8:41-48) which means it is significant. Let us recall it is Jairus who is a ruler of the synagogue (religious leader) who comes to Jesus because his daughter is sick and on the brink of death. From Luke, we learn Jaius' daughter was about twelve years old and his only daughter. This woman had an issue of blood for twelve years. Twelve is a significant number as there were twelve tribes of Israel and twelve apostles. Since she bled, she would have been considered unclean and an outcast in society. Mark and Luke tell us, this woman had spent virtually everything for a cure and could not find one which leaves us to believe she is desperate for a cure. Luke gives us the detail that her condition had worsened.

In all three of the gospels, the woman believes if she touches Jesus she will be healed in contrast to Jairus' view of needing Jesus to touch his daughter. The woman had the common superstition of the day which she believed a person's power was transferred to their clothing. Matthew has Jesus proclaim she is healed based on her faith and does not have her confess what she has done. While Mark and Luke have Jesus asking who touched him? Something happened when the woman touched him as Jesus states he felt something go out of him and the woman felt a soundness in her body. Jesus plays on the woman's superstition and exclaims energy went out of him as the woman was healed. In Mark and Luke, Jesus asks the person who touched him to make themselves known. On the one hand, Jesus asked this question to make a personal connection with the woman. On the other hand, this woman needed courage and boldness to identify herself as unclean and touching a clean person without letting it be known beforehand that she was unclean.

Matthew informs us she touched Jesus' tassel which is a reminder to obey God's commands and she is in direct violation of Levitical law. It took fortitude for this woman to speak up and Jesus rewards her integrity even though it was mixed with superstition. Also, the woman reveals humility as she has to state her uncleanness and confess her wrong doing in touching a clean person. The woman had to fight her desire to go unnoticed or being embarrassed. Jesus calls her daughter because he cares about her and loves her, and does not want to see her suffer just like Jairus does not want to see his only daughter suffer. Having one child and it being a daughter heightens the concern for Jairus to want her to be healed. I am sure parents can identify with the love they have for their child and want the best for them. In addition, there seems to be a special connection between fathers and daughters which deepens the empathy in this story.

Additionally, Jesus assures the woman that her faith caused God to heal her even if it was with imperfect knowledge of God and mixed with her superstition. Jesus calls her daughter as she was probably a Gentile and to contrast him being on his way to heal a Jewish person's daughter of nobility. Jesus is demonstrating Gentiles are incorporated into God's family. Jesus takes an outcast and brings her into the family of God because that is how encompassing God's love is. Her healing is physical and the Greek word (seoken) also has the connation of salvation, so Jesus saves her physically and spiritually. Peace (shalom) has the meaning of wholeness or completeness. By Jesus sending her away in peace, he is saying he participated in healing her and it was God's desire to make her well. This story concludes with Jesus using the traditional words of benediction as to bless the woman.

Do you have a question you would like to ask the Seminarian? If so, please submit them to me in person, by email, or by phone.

Faithfully,

Greg
Pastor's Teaching (You say – God says)
You say: 'It's impossible'
God says: All things are possible (Luke 18:27)
You say: 'I'm too tired'
God says: I will give you rest (Matthew 11:28-30)
You say: 'Nobody really loves me'
God says: I love you (John 3:1 6 & John 3:34)
You say: 'I can't go on'
God says: My grace is sufficient (II Corinthians 12:9 & Psalm 91:15)
You say: 'I can't figure things out'
God says: I will direct your steps (Proverbs 3:5-6)
You say: 'I can't do it'
God says: You can do all things (Philippians 4:13)
You say: 'I'm not able'
God says: I am able (II Corinthians 9:8)
You say: 'It's not worth it'
God says: It will be worth it (Roman 8:28)
You say: 'I can't forgive myself'
God says: I forgive you (I John 1:9 & Romans 8:1)
You say: 'I can't manage'
God says: I will supply all your needs (Philippians 4:19)
You say: 'I'm afraid'
God says: I have not given you a spirit of fear (II Timothy 1:7)
You say: 'I'm always worried and frustrated'
God says: Cast all your cares on ME (I Peter 5:7)
You say: 'I'm not smart enough'
God says: I give you wisdom (I Corinthians 1:30)
You say: 'I feel all alone'
God says: I will never leave you or forsake you (Hebrews 13:5)
---
Your source for learning about our Anglican heritage


Did you know? From an Anglican Glossary.


The little credence (credentia) table that replaced the stone shelf or alcove of very early churches holds the wine, water and bread (container of wafers) until the priest is ready for them. It is difficult to believe that this helpful piece of furniture could have been so strongly objected to from the early days of the Church of England through the 19th century.
1641: A committee of the House of Lords declares that the credence table is an "innovation." 1742 Rev. C. A. Wheatley (author of A Rational Illustration of the Book of Common Prayer): "In the ancient Church they had generally a side table near the altar. . Now . . we have no side table authorized by our Church." 1845 Dr. Daniel Wilson, bishop of Calcutta: "I prohibit altogether stone altars, credence tables and other popish usages." 1852 Dr. Edward Maltby, bishop of Durham, on hearing that the church in Henworth had a credentia and a sedilla: "I hereby order and direct the same to be removed." 1855 Rev. W. H. Pinnock (author of Laws and Usages of the Church and the Clergy): "There can be no doubt that the introducing of a credence table is illegal; and would in many cases, if persevered in, be attended with mischievous consequences."
The credence table has survived with no "mischievous consequences."
Visit our website at
Anglicana
Sunday Worship Service: 10 AM – Other Services as announced

We are a Traditional Conservative Christian Church.
Our Schedule of Worship Services embraces Anglicanism in its' broadest liturgical forms.
Most Sundays we celebrate Holy Communion according to the 1928 Book of Common Prayer.
We also provide a Healing Service including prayers, the laying on of hands and/or anointing with oil. The Healing Service is at 11:15AM on the 1st and 3rd Sunday of the month.


Biblical Teaching - Apostolic Faith
Liturgical Worship - Sacramental Theology

WE BELIEVE that the nature and will of God were revealed once and for all by His Divine Son, Jesus Christ, our Lord, and that this revelation recorded in Holy Scripture cannot and must not be altered or reinterpreted to meet the changing desires of man.

WE SUBSCRIBE to the Faith and Order of the One, Holy, Catholic, and Apostolic Church as clearly expressed in the Apostles', Nicene, and Athanasian Creeds, and that the Holy Scriptures contain all things necessary for salvation.

WE ARE MEMBERS of the Body of Christ under the Spiritual Leadership of faithful Bishops in Apostolic Succession adhering to traditional Christian doctrine and principles.

WE WELCOME ALL who seek a firm and unchanging foundation for their Christian Faith in this confused and troubled world.

Holy Spirit Anglican Church
1133 Orvilla Road
Hatfield, PA. 19440

Robin Goodfellow Web Designs